SD Casallina – born 06.05.19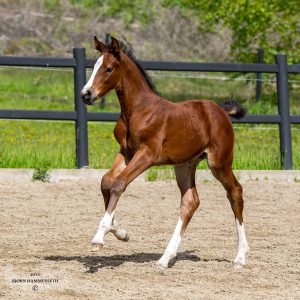 Casall – Chin Chin – Carthago Z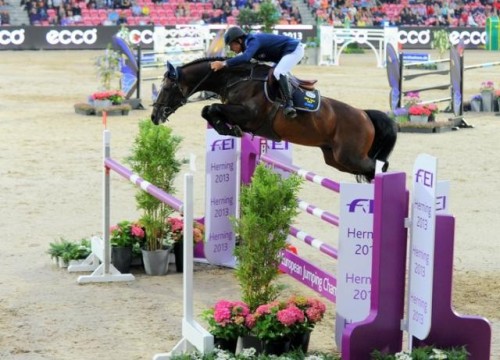 This stunning filly comes out of the fantastic combination Casall x Chin Chin x Carthago Z.  She was born with attitude and couriosity, self confidence and humour.
Only 20 min after she was out of her mamas stomach she decided to stand up herself and have a little milk for breakfast. Just like she never had done anything else – and thats excatly how she conquers the world.
Her father Casall is famous for his fantastic records and results! Ridden by Rolf-Göran Bengtsson, Casall was one of the absolute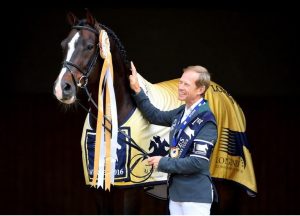 top horses on the international jumping circuit. He reached the top 25 at the 2012 London Olympics, the 2013 Europeans in Herning, and the 2014 World Equestrian Games in Caen, Herning saw him win team bronze with the Swedish team and place 4th individually. At Caen he took 4th place again following a more than convincing performance throughout the championship week. Over the past years, he has performed exceptionally consistent, particularly in the Global Champions Tour. Winning 11 legs of the GTC since 2011, he placed 2nd in the 2014 overall standing (level on points with the winner, Scott Brash) and 3rd in 2015. In 2016, at 17, Casall performed convincingly all along the line, placed first in the Valkenswaard, Paris, and Doha legs and won the Global Champions Tour.
The list of results achieved by Casall and Rolf- Göran could be continued indefinitely. But there is one thing to keep in mind: Not only has Casall proved himself on the international sport scene for more than 10 years, but also his offspring are demonstraiting their ability, and was not infrequently competing against their sire in the GCT competitions. Even though Casall is now retired form the internations sport scene, he will not be forgotten thanks to his numerous offspring well on their way in following their sire`s footsteps as breeding and sport horses. And this is exactly the reason we choose him for Fine- Chin!
The motherline:
Her mother Fine- chin Van Het Gevahof is a beautiful mare with a lot of expressions. She is sensitiv and bloody in a reasonable way. She have previously had 6 other foals, and they all have a lot of the same qualities. They are big framed with beautiful heads and very good movements, especially good gallopp.
Her oldest offspring, Mata Hari ADB ( 2012) is now 7 and is doing sport in Buenos Aires, with the rider Estanislao Cremona. He says about her that she is a promising GP project for the future!
Fine- Chin`s  daughter – Nayana AEG ( 2013)  attended to the world Championship for young horses in sept. 2018, representing Italy! This year she has started showing in the 130 classes and is proving her qualities in every way!
Her son Nostradamus AEG ( 2014) is an approved stallion, and about him, the Klatte family says: «Nostradamus convinces with phenomenal scope, great intelligence and outstanding technique. On top of this he is exquisite on the inside, a characterful horse who is exceptionally kind!» – just like his mother! In the end of may 2019 Nostradamus won a class in Kixhellen kl. A!
Nostradamus v. Nabab de Reve x Chin Chin x Carthago Z und Otto Vaske gewinnen in Kirchhellen die Springpferdeprf. Kl. ATG-Samen ist bei uns erhältlich:https://klatte.de/de/hengste/nostradamus/nostradamus.html

Publisert av Zuchthof Klatte Lørdag 25. mai 2019
Read moore about Nostradamus on Klattes homepage here.
SD Casallinas 2nd mother – Canita Z has also produced some good jumpers, among them Akito VH Gevahof from Darco – successful up to int. 145 classes, and our other broodmare Diamant van het Gevahof – who has been compeeting up to 140 international herself. Fine- Chin on the other hand is a career broodmare, she is selected by her type, from her pedigree and what she throws to devote and produce foal for top top sport.
Fine- Chin`s father, Chin Chin had a very impressive jumping career. In 1988 Chin Chin won five consecutive times in the North American League on the World Cup circuit and competed in Seoul at the Olympic Games where he placed sixth individually.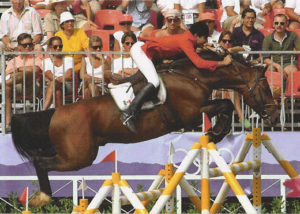 The offspring of Chin Chin really make the dream of their pedigree come true. Just to mention a few: Ta Belle van Sombeke, Triomph de Muze,Querly Chin, Tedechine Sept, Phin Phin, Tolano van't Riethof and Riot Gun van de Padenborre. They are all fantastic jumpers at the highest level. Its said that his willing and forgiving character, combined with an undeniable jumping talent, were huge factors in his international success. These attributes are passed through to his offspring.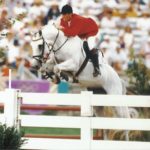 Fine-Chin`s damfather, Carthago Z was the son of Capitol I, one of the great modern Holsteiner showjumping sires. Carthago Z showed promise as a future show jumping star early at his performance test he earned a 9.5 for free jumping and a 10 for jumping talent! Carthago Z enjoyed a very illustrious show jumping carrier winning many grand prix's as       well as competing in 15 Nations Cups, in 1996 Atlanta Olympic Games Carthago Z finished 11th place individually along with rider Jos Lansink, the pair competed for Holland in there second Olympics at the Sydney Olympic games. Carthago Z was a proven breeder of show jumpers already having horses jumping at the highest levels; he is also the sire of several approved stallions and has over 900 registered offspring. He sired such top competitors as Davos, ridden by HRH Prince Abdullah Al Saud, Mylord Carthago ridden by Penelope Leprevost, Cha Cha Z ridden by Judy-Ann Melchior and Old Chap Time ridden by Eugene Angot.
SD Casallina:
The combination of pure quality has this year given us a eyecatching filly with long lines, a beautiful head with a very good expression. We are thrilled we had a filly this year, and the plan is to keep this one for the future.
https://www.horsetelex.com/horses/pedigree/2069652/sd-casallina