We are getting closer and closer to due date for our mares !
SD Dalouba pregnant to Kannan for 2019
Estimated birth 21. April 2019 ( 340 days)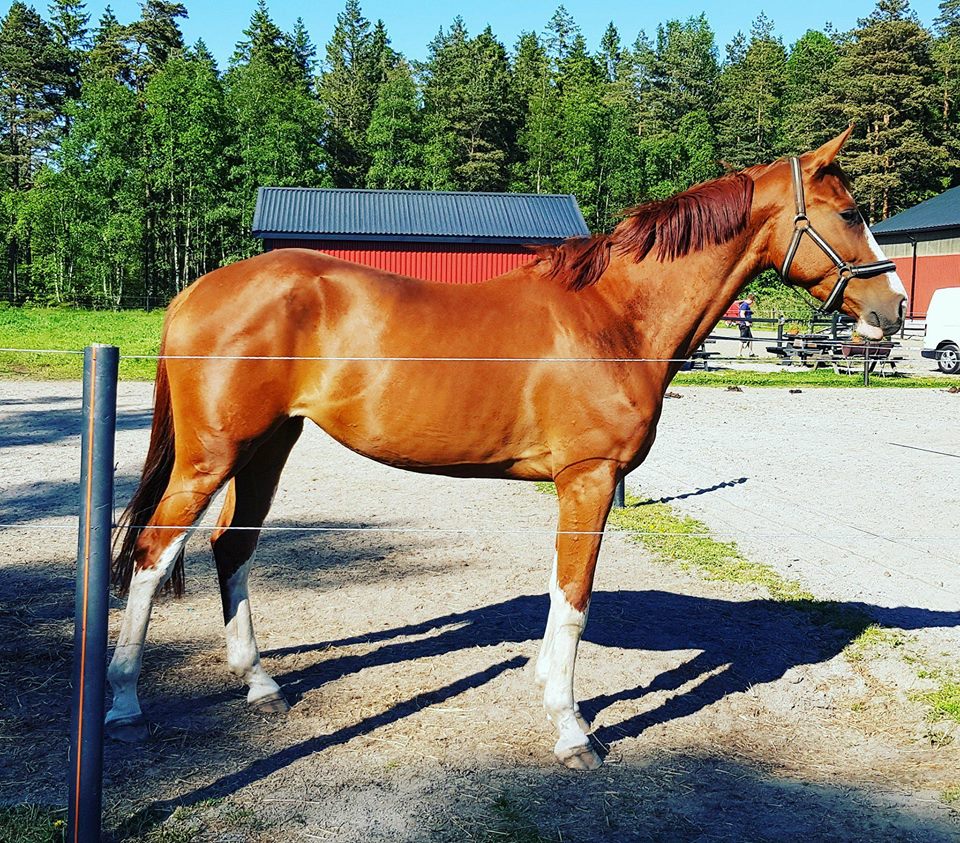 Dalouba is out of our broodmare Diamant Van Het Gevahof, and was born in 2015. Her father is the exciting stallion Balou du Rouet, with the legendary father Baloubet Du Rouet as grandfather. Balou du Rouet has himself also delivered on highest level in the sport, and despite his young age, Balou du Rouet is a trademark stallion of international esteem. His progeny combines the very best out of BW and Holstein.
Dalouba is a modern type of horse. She has a lot of blood and shows great scoope and good reflexes in the freejumping. We selected Kannan as stallion for her for many reasons. First of all he shows a pedigree full of major legends like Nimmerdor, Voltaire and Le Mexico. He might be a bit «oldfashioned» in his body, but Dalouba is longlegged and noble. Kannan is said to match with a lot of mares whilst adding canter, strength and a super mouth, he is known for working particularly well with blood type mares, just like Dalouba. Kannan has been the number one on WBSFH list for years, and his offspring are appreciated worldwide for their exceptional talent, great willingness, kind temperament and their ability to react. We think he will souit her perfect!
The foal will be for sale.
Fine-Chin Van Het Gevahof pregnant to Casall for 2019
Estimated birth 11.may 2019 ( 340 days)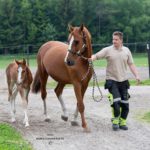 Fine- Chin is a beautiful mare with a lot of expressions. She is sensitiv and bloody in a reasonable way. She have previously had 6 other foals, and they all have a lot of the same qualities. They are big framed with beautiful heads and very good movements, especially good gallopp.
Her oldest offspring is now 7 and is doing sport in Buenos Aires, with the rider Estanislao Cremona. He says about her that she is a promising GP project for the future!
Fine- Chin`s  daughter – Nayana AEG ( 2013)  attended to the world Championship for young horses in sept. 2018, representing Italy!
Her son Nostradamus AEG ( 2014) is an approved stallion, and about him, the Klatte family says: «Nostradamus convinces with phenomenal scope, great intelligence and outstanding technique. On top of this he is exquisite on the inside, a characterful horse who is exceptionally kind!» – just like his mother!
Read moore about Nostradamus on Klattes homepage here.
We have choosen to use the great and impressive stallion Casall, previously ridden by Rolf Göran Bengtsson for her. He is said to fit perfectly with long legd, big sized mares who throws foal on the bigger side. We think Fine- Chin will suit him perfect.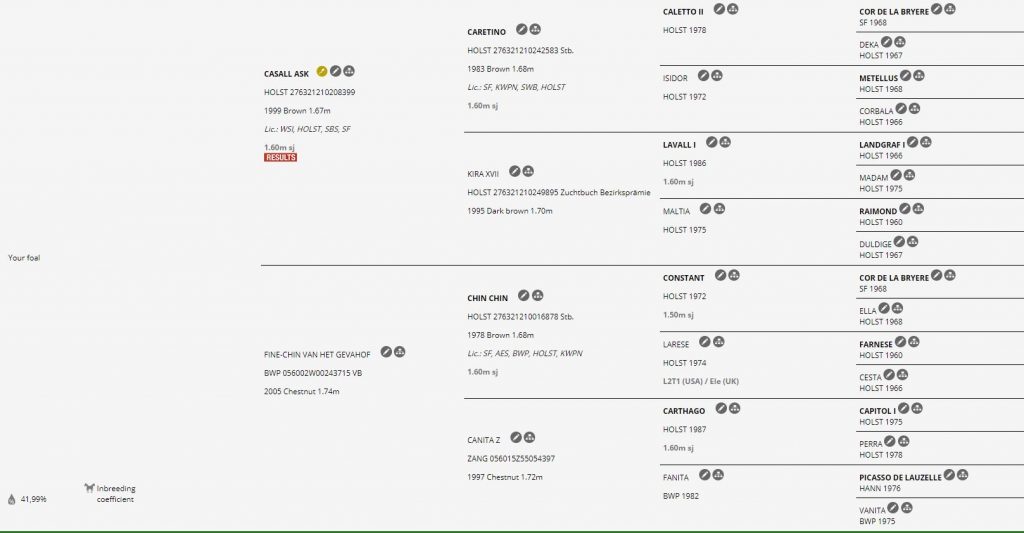 The foal will be for sale if its a colt.
Diamant Van Het Gevahof pregnant to Kannan for 2019
Estimated birth 14. may 2019 ( 340 days)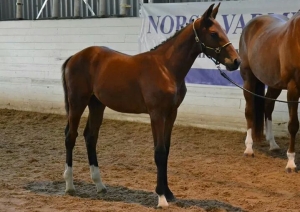 Diamant van het Gevahof has all the way produced top top quality offsprings. Jericho, who is now 9 yr old, is one of them, others to mention is Mithras, owned by Lisen and Olympic silver medalist Peder Fredricsson,  who now compeet in the 6 yr old classes. Diamant typical throws very good flexibility and good hindlegs. She has done 140 herself, and all of her offsprings seems to have plenty of capacity, good technique and strong minds. Diamants pedigree, Heartbreaker x Carthago has time after time shown to give world class horses. Among others we find Harley «preferent» VDL.
Diamant`s offspring for 2018 ( Cicero Z) was sold to the ambitious Swedish rider Sofia Westborg.
This pregnancy will be a full sibling to SD Dannan who was sold to Lisen and Peder Fredricsson in 2016. SD Dannan is unfortunately not among us anymoore after an injury, but we are excited to meet a full sister or brother in a few months!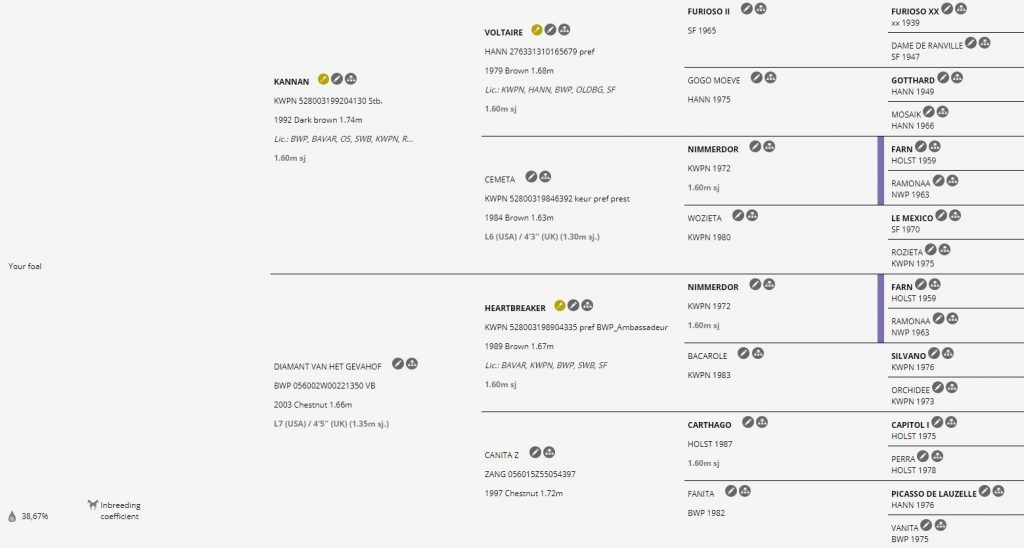 The foal will be for sale if its a colt.
Devina pregnant to Diamant de Semilly for 2019
Estimated birth 28. may 2019 ( 340 days)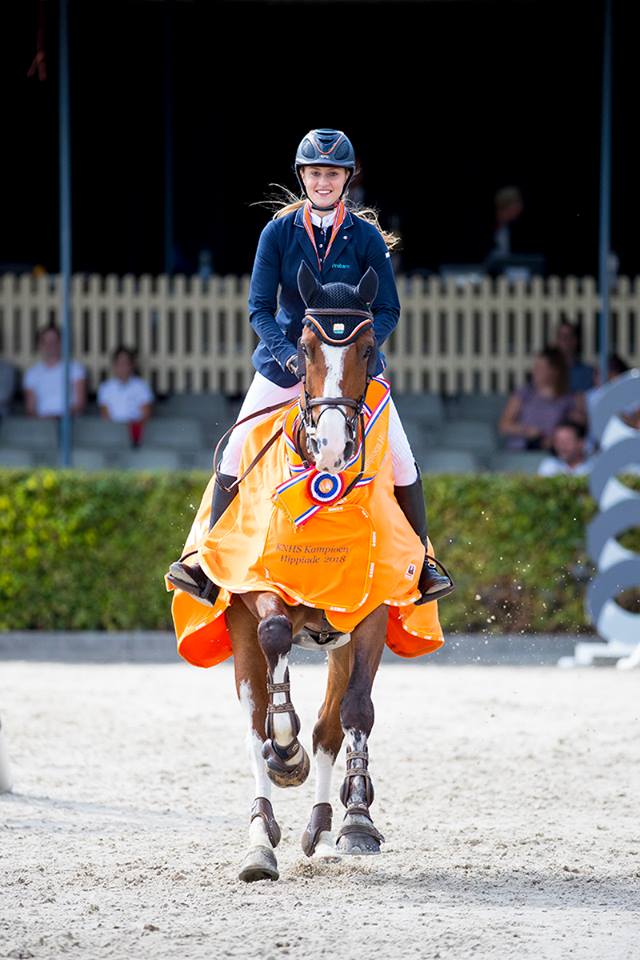 Devina comes from a strong damline. Wendelin, Devinas mother, comes from the famous Sonnevanck stem, dam line 56, breeding family 21. Her son Caluna's Carento, (Devinas brother,) from Caretano Z, was sold at auction in 2005, and has been approved at Zangersheide. He finished 6th with the 6-year-olds at the Lanaken WC and has jumpd 1.60 under Leon Thijssen. Furthermore, the following internationally jumping horses are connected to the dam line: Sire Major de la Cour (BWP approved, 1.60 under Jean-Claude Vangeenberghe), Argelith Niels (1.60 under Eva Bitter), Un Ami (Stefan Corten and The Illusionist ( Jack Neefs)
Devina has herself produced many showjumpers. Hickstead AEG – 07 (150 with Nick Channing, previously ridden by Robert Witaker), Ivina AEG -08 (140 Melissa Seneca), Jalisca AEG – 09 ( 120 / Joris Aegten). Jalisca won the BWP Finale for 5 yr olds, before she got an unfortune injury and is now in breeding. Kastello AEG – 10 is now with rider Lisa Kircher, and doing 1.25 classes. Minerva AEG – 12 is doing 120 classes with junior rider Kimberly Loos.
Devinas foal from 2018 ( Elvis Ter Putte) was sold to Mexico!
The combination with Diamant De semilly, Heartbreaker and Darco is very exciting. When you mix up some of the very best stallions in the world, could it be other than success?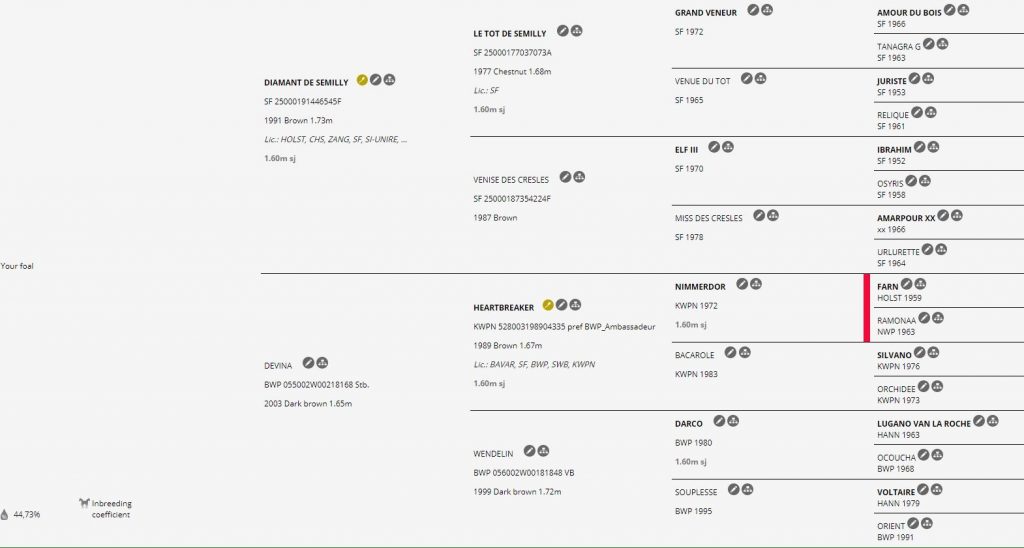 The foal will be for sale if its a colt.
If you have any questions, dont hesitate to take contact.