SD D`Elvis – born 21.05.18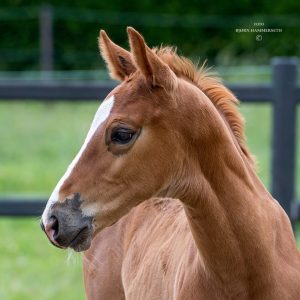 Elvis Ter Putte – Heartbreaker – Darco
SD D`Elvis father, Elvis Ter Putte
Elvis Ter Putte carries the blood of the fantastic stallions Diamant de Semilly, Darco and Quidam de Revel. He is a international winner under the saddle of Karline De Brabander, and was among other strong results, 6th of 6 YO World Championship and 4th of 7YO Belgian Championship. He produced the champion of the BWP stallion approval in 2015 and is one of the best Sire of young horses in Belgium. Elvis comes out of a very strong damline with plenty of 160 horses.
http://jorisdebrabander.be/en/nieuws/Elvis-ter-Putte-progeny-exceeds-wildest-expectations
http://jorisdebrabander.be/en/paard/ELVIS-TER-PUTTE-DIAMANT-DE-SEMILLY-x-DARCO#group-8
The dams father, Heartbreaker was declared 'Preferent' in 2009 because of his successful offspring in the international scene. Heartbreaker himself was successful at Grand Prix level with Peter Geerink and is now placed number 12 on the WBFSH-ranking for jumping sires. His influence in worldwide breeding is enormous. Heartbreaker has been equally successful as a sire, leading the Dutch breeding values for jumpers for five years in a row. International competitors by him include: Splendid van de Heffinck (James Paterson Robinson), BMC's Skybreaker (Mikael Forsten), Thorax van 't Heikhof (Marc Wirths / Markus Beerbaum), Toulon (Hubert Bourdy), Vancouver d'Auvray (Danielle Toano), Uriana van Klapscheut (Frederica Franceschetto), Voice (Jose Larocca), Calypso VB (Marshal Field), Ups 'n Downs van den Bandam (Clemence Laborde) Viva (Sergio Alvarez Moya), Radieux (Frederic Vernaet), Riant vd Mosselcentrale (Hank Melse), Unbreaker (Marco Porro), Vienna Rouge (Keean White), Up To Date van het Geelhof (Emile Martinsen), Clever-Boy vd Ruitershoeve (Antonio Portela), Quasimodo van de Molendreef (Jaime Azcaraga), Versace van de Ruitershoeve (Pauline Guignery). Action-Breaker (Sergio Alvarez Moya) and Orlando (Darragh Kerins).
The dam, Devina is our lastest extencion to our broodmare collection. We bought her last year, and she comes from a good damline. Wendelin, Devinas mother, comes from the famous Sonnevanck stem, dam line 56, breeding family 21. Her son Caluna's Carento, (Devinas brother,) from Caretano Z, was sold at auction in 2005, and has been approved at Zangersheide. He finished 6th with the 6-year-olds at the Lanaken WC and has jumpd 1.60 under Leon Thijssen. Furthermore, the following internationally jumping horses are connected to the dam line: Sire Major de la Cour (BWP approved, 1.60 under Jean-Claude Vangeenberghe), Argelith Niels (1.60 under Eva Bitter), Un Ami (Stefan Corten and The Illusionist ( Jack Neefs)
Devina has herself produced many showjumpers. Hickstead AEG – 07 (150 with Nick Channing, previously ridden by Robert Witaker), Ivina AEG -08 (140 Melissa Seneca), Jalisca AEG – 09 ( 120 / Joris Aegten). Jalisca won the BWP Finale for 5 yr olds, before she got an unfortune injury and is now in breeding. Kastello AEG – 10 is now with rider Lisa Kircher, and doing 1.25 classes. Minerva AEG – 12 is doing 120 classes with junior rider Kimberly Loos.
SD D`Elvis
The strong and powerfull colt comes out of a combination of some of the best bloodlines in the world! D`Elvis stands correctly on his legs, he has a winning attitude and good gaits. D`Elvis is interessting for the future both as stallion prospect and sport horse.
With all the successfull offsprings in damline, and still moore younghorses waiting to get old enough for the competition arena, we are very much excited for this years colt
SD D`Elvis is for sale to buyers who can develop him and offer him a good home. Please get in contact through email: smh@brick.no or whatsapp: 004741444148 for price info, videos etc.