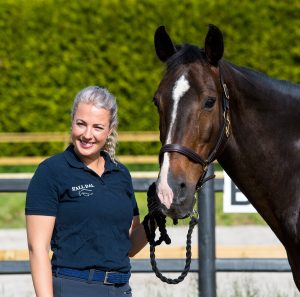 This year, we have had Fine-Chin stabled up in Belgium at Stal Aegten for embryo collection- and what a success! The ongoing Corona situation has made it difficult to get them home, but Joris at Stal Aegten is looking very good after all the 3 of them.
Rosa is still at her breeders place, Filip Van Hul in Belgium, but we now really try to get her home.  I cant wait to meet her! Filip has all the way given her very good care, but now I cant wait to cuddle her!
Diamant and Fiona is unfortunately not pregnant for this season, but we still have some really exciting arrivals:
Nr. 1: Eldorado x Chin Chin x Carthago Z – Embryo
On our mare Fine-Chin!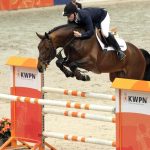 Eldorado van de Zeshoek, the father, has a fantastic pedigree with a lot of sporthorse producers. Sire Clinton has an impresse career in showjumping and as well as a stallion, with offspring like Cornet Oblensky, Allemachtig, Via Volo, Special etc. Eldorado's mother, Bijou Orai has jumped at Grand Prix level with Hubert Bourdy and was than exported to the United States. Her sire Toulon (v. Heartbreaker) was also ridden by Hubert Bourdy and they won the Grand Prix of Sao Paulo and were second in the Grand Prix of Calgary and Valkenswaard. The damline is going back to the foundation sires Calypso III and Latano. This damline is the very famous Holsteiner line 2581, which produced the grand prix jumpers Gonzales (v. Carneval), Akynoek (v. Kannan), Bijou Orai (v. Toulon), Samba (v. Calypso III), Ufra (v. Coronado) and Valdorai (v. Ahorn Z).
Eldorado van de Zeshoek himself is a very tall and leggy stallion with a lot of expression. With his rider Walther Lely Eldorado jumps fantastic and he has a fantastic canther. Eldorado van de Zeshoek is approved BWP and was the champion of the Belgiam Warmblood show in 2007. Before we choose the stallions to use for Fine- Chin this year, we spent a lot of time looking at younghorses ( to see their offsprigns) and select who we liked and not. I must say, I find Eldorados offsprings very impressive, and we really think with this combination we will improve and add very important genetics to our dear mare!
Due end march.
Nr. 2 Codex One x Chin Chin x Carthago Z – Embryo
On our mare Fine-Chin!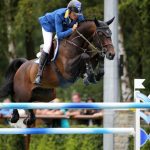 With Christian Ahlmann in the saddle, the Hanoverian stallion, Codex one by Contendro x Glückspilz has been one of the most- winning horses on the international circuit over the last 5 years. Codex One initially had great success together with Kart Brocks, and moved over to Christian, who took the stallion even further. Together the two won the most prestigious Grand Prix in the world back in 2014: The Rolex Grand Prix of Aachen. They also won that years Valkenswaard, the 2013 LGCT Grand Prix of Hamburg and the 2011 Grand Prix of Frankfurt. Codex One and Christian Ahlmann were also a part of the silver medal winning German team in 2013 Europeans in Herning. He jumped at the 2012 Olympic Games as well as the 2014 World Equestrian Games. He is truly a huge winner, and we are thrilled for this pregnancy!
Due april.
Nr. 3 Diarado x Chin Chin x Carthago Z
This one, Fine- Chin carries herself.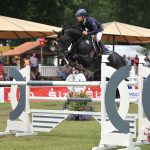 Diarado is despite his young age listed among the world`s best show-jumping sires. He carries world champion blood on the top of his pedigree, with his sire, Diamant de Semilly who belongs to the best jumping sires worldwide. With Eric Levallois he won the team gold at the World Championships in 2002, one year later the team silver medal at the European Championship, and was repeatedly named Best Sire of Young Horses in France. Diarados dam is by  Corrado I, Contender, Lord and Ramiro, – all exceptional sires. The progeny of Corrado I, who was internationally successful with Franke Sloothaak, have won 3.28 million Euros in prize money, and Contender's progeny have won 7.68 million Euros!
Diarado has embarked on a dream career: Licensing winner in Holstein 2007, stallion performance test winner in Schlieckau in 2008 and now proven sire. Diarado stands out due to his exemplary lightness of jump, sensational scope, feline agility and the intelligence demanded for today's technical jumping-courses. He received dream scores at his 70-day-test: 10.0 for free-jumping, 9.5 each for scope in canter and rideability, 9.75 for jumping a course as well as 9.3 for jumping ability.
Due end april.
No. 4 Mylord Carthago x Heartbreaker x Carthago Z
The mother is Devina.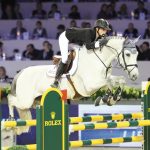 Mylord Carthago is by the great Carthago who has for many years been one of the top 20 jumping sires. Mylord Carthago is out of a super Selle Francais motherline, including Jalisco– sometimes called the 'sire of sires'.  Mylord Carthago is a strong blood-type stallion that has impressive locomotion, respect and style, and genetics and scope. Medium weight through to heavier mares will do well with Mylord Carthago. He will suit a more compact mare and will improve the canter, carefulness and bounce in the offspring. Mylord Carthago jumped from 25th to the 10th spot of the WBFSH Top Show Jumping Sire Ranking in 2019.
He passes his canter quality, his trajectory and strength to his offspring. Mylord Carthago is a former superstar in the show jumping arena, and is now also acknowledged as a star in the breeding world. Not only is he ranked in the Top 10 on the WBFSH sire ranking, he also ranks 6th in the Horsetelex list of sires with winning offspring under 13 years of age. His offspring show strength, respect and an excellent mindset. He was successful with Pénélope Leprevost: Olympic Games of London 2012; World Vice-champion by Team in WEG Lexington in 2010; European Vice-champion by Team in Madrid in 2011; 1st of GP CSI5* of Paris, Helsinki and Vienna; 2nd of GP CSI5* in Chantilly, La Baule and Gijon; Winner of the Nations Cup of Aix la chapelle, Rome, La Baule, Gijon and more.
Due start july.
No. 5 Kasanova de la Pomme x Vigo D`arsouilles x Cardento x Darco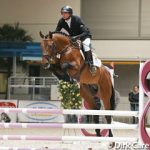 The mother is Rosa Rubiginosa Van De Lentamel.
Kasanova de la Pomme was awarded Champion of the Belgian Warmblood Stallion Licensing in 2013.  He has the finest jumping genetics and impressed the judges and crowd with an excellent show and his powerful movement.
Kasanova de la Pomme presents himself as athletic and maintains a good side image.  In the Belgian stallion competition Kasanova presented himself excellently under the saddle and the feedback report awarded him with the best rideability while noting his talented light-footedness and jumping skill.
He is a son of energetic and clever stallion Bamako de Muze out of Everlychin de la Pomme, daughter of Malito de Reve. Everlychin has jumped at highest level under the saddle of Irish rider Shane Sweetnam. Kasanova were staying in Germany for reproduction. He is now back in Belgium to really start his sport carreer. First offsprings are six years old in 2020 and he gave already some youg stallions approved.
His sire Bamako de Muze inherited his jumping genes from the towering Darco, as well as, from his dam Fragance de Chalus. Fragance de Chalus was internationally successful in jumping and is also the dam of Mylord Carthago and Norton d'Eole.
Due in end july.

As said, we also hoped for a Cornet Obolensky x Heartbreaker foal, and a Comme il Faut x Nabab De Reve foal- but that didnt happen. We keep our fingers crossed for success this year instead.