We are so excited to announce our newest addition, Rosa Rubiginosa!
To make sure allways to be infront of what the sport needs, we try every year to improve and to seek for the very best combinations for our breeding program. This year we got the rare chance of buying a 2 yr old filly from on of Belgiums very best damlines. Rosa Rubiginosa Van de Lentamel combines some of the greates sires, and is from an exceptional good family.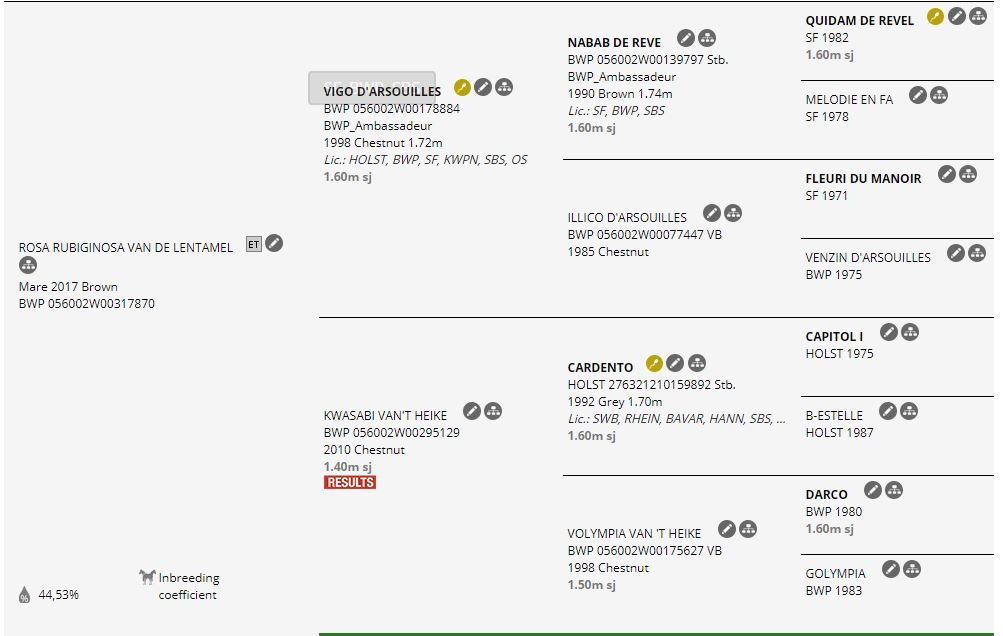 Her father, Vigo D`arsouilles , the World Champion with his rider Philippe Lejeune in Kentucky 2010, is one of the rising star of European breeding. He produces new international winners every year. He transmits his strength, his canter and his great temperament. In 2010, Vigo d'Arsouilles won the gold medal at the World Equestrian Games in Kentucky, under his regular rider Philippe Lejeune, and made a significant contribution to the surprise team bronze medal victory. Incidentally, one of Lejeune's past international show jumpers was Vigo d'Arsouilles' sire Nabab de Rêve. A well-developed  horse out of a strong dam-line, Vigo d'Arsouilles is SBS-approved and KWPN-recognized. Since 2008, Vigo d'Arsouilles and Lejeune have been regulars on the Belgian show jumping team, and they have placed high in various Grands Prix and Nations Cup competitions. Furthermore, the talented jumper was crowned Belgium's Horse of the Year in 2008. In 2010, he was awarded the title again; and in 2011, he was declared BWP Ambassador.
Her 1.st mother Kwasabi Van`t Heike is bred by the well known Van`t Heike family, and was herself succesful up to 1.40 level before she got injured. Her father, the Holsteiner stallion Cardento has everything: a top pedigree, the capacity to jump at Olympic level and the ability to pass his talent on to his offspring. Besides this he has a golden character. Cardento has proven himself at the highest level winning a Silver medal at the World- and European Championship and the Olympics of Athens. He won the Nations Cup of Rome, Dramman and Ikast. Individually he won, among others, the Grand Prixs of Holte, Helsingborg, Angelholm, Gera, Kungsbacke (2x) and placed 2nd in Aarhus. Cardento placed 6th in the Worldcup Qualifier of Göteborg, placed 4th in the German Classics in Hannover and 6th in the Grand Prix of Stockholm.
Her 2.nd mother, Volympia Van`T Heike has proven that she can both be on top in sport, and that she can produce horses for the absolutely top. She has herself ben succesful at 1.50 level, and she has produced 8 offsprings.  Among them is Evian Van`T Heike ( 1.60 level) and Fair Light Van`t Heike ( Vigo D`arsouilles)! Fair light Van`t Heike has won nummerous victories in the top (1.60), among them WC and Global Champions League! See Fair Light here:
From her 3.nd mother,  Golympia, it`s getting even moore interessting. Her sister Quanina Van`t Heike has an extremely impressive progeny for her offsprings. In this line we fine among others Valentina Van`t Heike, who was for many years seen as the best horse in the world!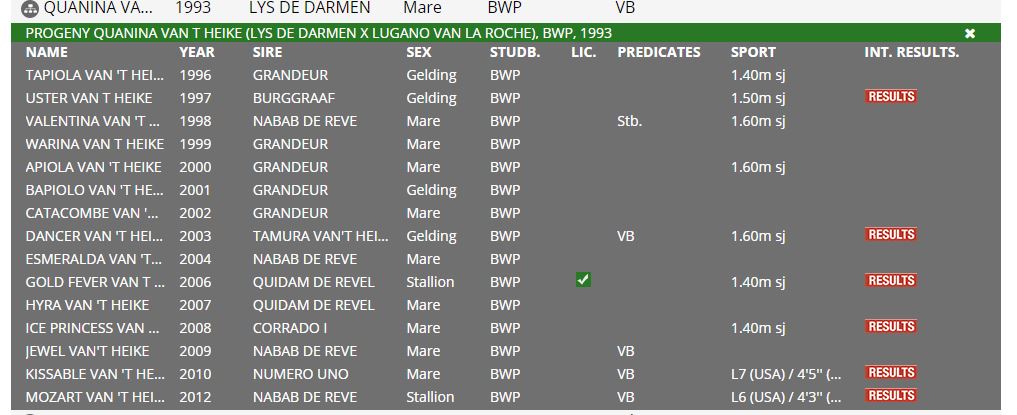 Under the saddle of Jos Lansink Valentina triumphed with victory at the GP of the Gucci Masters in paris, the GP of Abu Dhabi and several honorary places such as a second place at the Global Champions Tour in Doha and Valencia or at the Nations Cups of Rome and Barcelona.Further the pair ensured the bronze team medal during the World Equestrian Games in Kentucky in 2010. Valentina gave birth to inter alia the two international show jumping horses, Boomer van 't Heike (s. Grandeur) and Epleasure van't Heike (s. For Pleasure).
See a freejumping video of Rosa ( as 1.5 yr old) here:
We are very proud of bringing such a quality horse as Rosa to the stable, and we are excited to see what the future will bring, with this fantastic mare!