Welcome to the world, SD D`Elvis!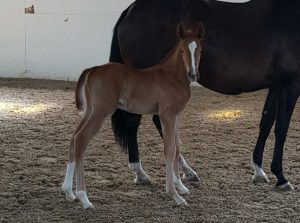 Finally, the waiting is over for our first foal of the year! And as allways, the waiting pays off, and all the sleepless nights seems far away.. This year we had some extra sleepless nights aswell, since I for some reason had mixed up the dates, and in the beginning thought Devina`s due date was 04th. may and not 14th. of may… Oooops..
As we allways eager to do everything we can, not to miss one single birth ( we havent missed anyone yet..) – we have had the clock alarm on every half hour to check the camera since 26th. of april. That means,  we haven`t been sleeping too good lately. It's a part of the game – and so totally worth it. This foal was Devina`s first foal at our place, and since I don't know her normal behavior around birth, we have been extra carefull, not to miss anything out. Luckily I'm surrounded by the best supporters in the world, so both my mum and my husband Anders has helped me out checking the camera.
But Devina, as the experienced broodmare she is, knew what was going to happend, and showed us quite clearly when she was getting ready. I have a refractometer who measures the protein in the milk, and when it gets closer to the birth, the level raises. When her boobies filled up properly and we saw we was getting closer I started testing the milk.
The 19th. of may her milk was 15%, they say that over 22% means good milk with a lot of antibodies, wich is extremely important for the foal to get the first day. On the 20th. of may it was 23%. Her milk had very good quality!  She was walking a bit impatient around in her box in the afternoon, her normal silent behavior changed a bit, so we kind of knew it was time. We was up extra that night, and around 04.00 we went to the stable to be around with her, to assist if needed. She was calm but sweating a bit, and she was dripping milk at this time. She was still eating her hay gladly, but she looked at her stomach from time to time and was still walking impatient now and then.
We have a sweat detector alarm we use, but since we now knew it was time, she didn't have it on at the birth.
We have beautiful weather here in Norway these days, and it was a pleasure to sit outside the stable with a clear blue night sky above us and hear the birds singing while we was waiting for one of the most exciting and at the same time frightening things in the breeding, to happen. It's so terrible close between pure happiness and pure sadness when it comes to births, and the broodmares is so vulnerable. The nightmare does happen from time to time, when foal or mother gets sick, injured or in worst case die, but luckily it normally works out fine.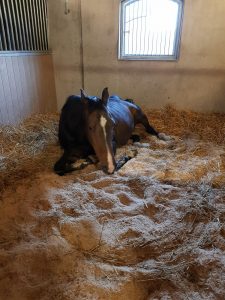 At 05.15 the wather «breaks» and she goes directly into birth. She walks a bit around, now with the fetal sack out of her vuvla, and we could quickly see 2 front legs and the noose. Puuh – thats the best feeling – the foal is in correct position! She lays down, a bit close to the wall, but its ok. She starts pushing, and we help her to bring him out. We can early on she that he is super strong and is quick and ready from the first breath. 05.30 he is all out and ready for the life outside mummy's safe belly.
Devina is the perfect mother. So careful and caring. She lays down to rest a bit after the birth, but is in good shape. She talks a lot with her newborn, and helps to get him dry by licking him. After about 45 min the little young one is ready to try out his long feets. And he is superb at it. Finds his balance really fast and goes quickly to look for a drink from the milkbar. And when you have an experienced mother who knows how to handle it all that's no problem. She talks with him all the time and almost push him in the right direction. At this point her milk drips and he gets the taste of the godness very fast.
It's so wonderful to see how the maternal instinct works, and what a beautiful job Devina does with her son. It makes me proud and humble for the animals we get to work with.
Now the foal is 2 days old and he is a very vital and strong man. I must say I already adore his personality. Super present, curious and good-looking – what a combo! We have named him SD D`Elvis and I will soon write a full presentation of him and his pedigree.
Meanwhile we will sleep a few nights before we start the alarm all over again for our next expected delivery from our mare Diamant. This will be Diamants 5th foal at our stable, and we feel a bit more sure about catching up with her signs when its time for birth.  Her due date is 30th of may, keep fingers crossed that it will be as nice birth at for Devina <3