SD King of Heart – born 09.06.20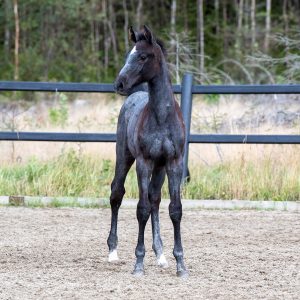 Cornet Obolensky – Heartbreaker – Carthago
Its amazing how you still, after seeing so many foals, can be facinated about how impressive they are! – And this one really is. Impressive.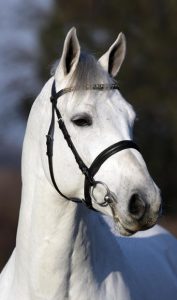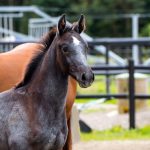 His father, Cornet Obolensky has been top ranked sire on the WBFSH Jumping Sire ranking for many years! Never before have we seen a stallion dominate all theinternational events in breeding and competition at such a degree. Already 21 of his oldest offspring have advanced to the highest level of show jumping. It is rare to find a stallion been so prepotent in passing on his talent for top-level sport. From the moment Cornet Obolensky set foot in the world of breeding, riders and breeders have been fascinated by this charming gray. At the 2001 Westphalian stallion inspection the audience watched breathlessly as this product of the golden combination Clinton x Heartbreaker just seemed to flirt with the jumps. In the 30-day test this phenomenal athlete received a 9.24 score for jumping aspects and a 10 for free jumping. When teamed up with Marco Kutscher in the saddle the admiration for Cornet Obolensky´s jumping talent simply rocketed. The combination qualified for the Bundeschampionat´s finals with scores other athletes can only dream of. With a casual ease they conquered the world´s most difficult courses as if it were child´s play.
Mother:
SD Kings mother Diamant van het Gevahof has already shown us that she can produce sportshorses. King is her 11th foal, and this gives us good assumptions to make the correct stallionchoices for her.King is the full brother to SD Dobolensky, who unfortunately died in a young age. He also have other halfsiblings who has done good, among them Jericho ( previously rider Bertram Allen – now in USA) and Mithras ( previously owner Peder Fredricsson – now in the USA). We belive that the line breeding with Heartbreaker will make a real cracker!
Diamant has done 140 herself, and all of her offsprings seems to have plenty of capacity, good technique and strong minds. To mention something, I would say they alle have especially good hindlegs. Diamants pedigree, Heartbreaker x Carthago has time after time shown to give world class horses. Among others we find Harley «preferent» VDL.
SD King was sold to a Norwegian rider last year, where he will be getting all chances to become the real supertstar, he is ment to be!