SD Kanbreaker – born 20.05.2019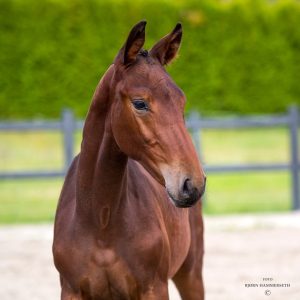 Kannan– Heartbreaker – Carthago Z
This hansome colt comes out of a very exciting and proven combination, and the expectations of a powerfull showjumper dosent come without a reason.
Mother:
SD Kanbreakers mother Diamant van het Gevahof has already shown us that she can produce sportshorses. Kanbreaker is her 10th foal, and this gives us good assumptions to make the correct stallionchoices for her. Kanbreaker is full brother to SD Dannan, who was sold to Lisen and Peder Fredricson back in 2016. He also have other halfsiblings who has done good, among them Jericho ( previously rider Bertram Allen – now in USA) and Mithras ( previously owner Peder Fredricsson – now in the USA).
Diamant has done 140 herself, and all of her offsprings seems to have plenty of capacity, good technique and strong minds. To mention something, I would say they alle have especially good hindlegs. Diamants pedigree, Heartbreaker x Carthago has time after time shown to give world class horses. Among others we find Harley «preferent» VDL.
Father: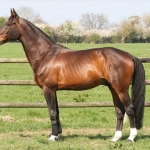 Real quality stands the test of time: Kannan is the only stallion in the world who has continuously remained amongst the top 12 sires of winners in the WBFSH rankings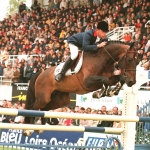 since 2010. The strength, respect and mindset he passes on account for his offspring's outstanding reputation across the globe and make it one of the most popular stallions in the world.  In terms of genetics, Kannan shows a pedigree full of major legends like Nimmerdor, Voltaire and Le Mexico. Kannan seems to match with a lot of mares whilst adding canter, strength and a super mouth, he works particularly well with blood type mares. And I don't know if anyone noticed, but last year Kannan was the third highest represented stallion at Lanaken, with 17 kids. This year he had 23. For the 5 yr olds, he sired 2 horses in the top 5 – Rockwell Rc ( winner) and Opium JW Van de Moerhoeve TN ( 4th place).
SD Kanbreaker
This young colt has a super mind. He is confident and curious, yet easy to handle and loves attention and humans. He has a good body, with long lines. His gallopp is rhythmically and he puts a good stamp from the ground. He is quick in his reflexes, and very balanced.

SD Kanbreaker is for sale to buyers who can develop him and offer her a good home. Please get in contact through email: smh@brick.no or whatsapp: 004741444148 for price info, videos etc.