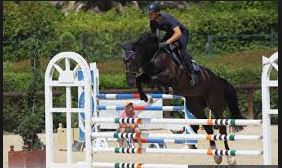 Nayana ADB
From 12 until 16 September 2018 Domain Zangersheide is the centre from which showjumping talents conquer the world. In the FEI / WBFSH World Breeding Jumping Championships for Young Horses 5-, 6- and 7-yr-old horses jump for the world titles in three different arenas, and winning is worth it in many way, a place on the honourary platform gives the winners world title status and the breeders and the riders are rewarded with a premium.
From the 27 til 29th of july Nayana ADB and her rider Ludovico Martini Di Cigala ( ITL) attended to the 5yr classes (with qualification for the Championships in Zangersheide) at a Italian show at Horses Riviera Resort. The equipage was double clear all rounds (120/125) and ended up winning the qualification, among 86 other horses and riders.
With that result they was given a ticket to compeet at the 5 yr classes in the Championship in Zangersheide! What a achievement!
Nayana is bred by Joris Aegten (Belgium), and is out of our mare Fine-Chin Van Het Gevahof.  Fine-Chin is pregnant for 2019 with no less than Casall – we are super exciting about that combination!
We will off course go to Lanaken and cheer for Nayana and her Italian rider!